Boarding
Animal Care Hospital of Matthews offers pet boarding on site in our clinic. We keep the cats and dogs in separate rooms of the clinic. Both areas are heated/air conditioned and strictly indoors. Dogs are taken on walks multiple times a day in order to maintain a healthy exercise regimen. Animal Care also boards birds and ferrets. All pets must be current on all vaccinations in order to board. We have multiple cage sizes available, including runs.
Animal Care Hospital of Matthews will also begin offering a Day Boarding Service. Day Board is drop off by 9am and pick up by 5pm.
Grooming
We are not a full service grooming facility, however we do offer some routine grooming services. We have a bathing facility on site where we can give your pet a thorough bath and ear cleaning. A blow dry and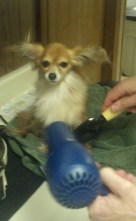 comb out will finish out the process. We also have Spa Packages available which include nail trims and anal sac expression. Routine grooming such as sanitary shaves, anal sac expression and nail trims can also be performed separately. If your pet bird needs spa time, you will be happy to know that we also groom birds. Give us a call today (704) 847-3647 for details and prices.
For the safety of our staff and your pet, we do ask that all dogs and cats are current on their vaccinations.
Rewards program
We also offer a rewards program with our baths and Spa Packages. When you buy five, you get the sixth free!! Make sure you get a bath card on your next spa visit.