Diagnostic Imaging
At Animal Care Hospital of Matthews we utilize a variety of imaging technologies to help us diagnose your pet's illness. In addition to in-house radiography (x-ray), we also offer ultrasound imaging including echocardiograms.
In-House Laboratory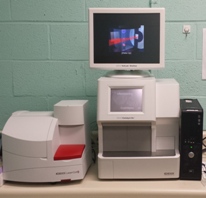 At Animal Care Hospital of Matthews, we have an extensive in-house laboratory which enables us to
obtain rapid and accurate results. When your pet is ill, the ability to acquire results quickly allows us to initiate the appropriate treatment.
Off-Site Laboratories
Animal Care Hospital of Matthews also utilizes the services of several outside laboratories which have the ability to run advanced tests that we can not run in-house. This allows us to diagnose and treat a wider range of illnesses.